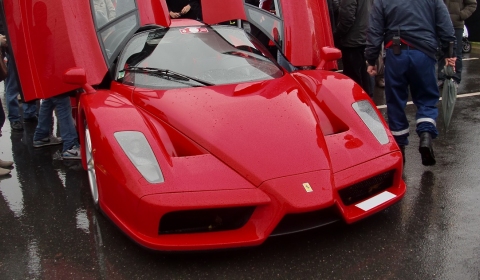 This weekend there is an event by a French automotive association, called the EAP – EmotionAutoPrestige. It is a club of exotic car owners with a wide and diverse range of cars, like Lotus, Aston Martin, Ferrari, Lamborghini, McLaren and Gumpert sports cars.
Alex Smolik visited the event, which was held for the Téléthon, a charity event in France, where you donate to help sick children. To raise funds, EAP asked some of its members to bring their cars at l'isle-adam (95) in front of a huge Carrefour supermarket, so random people shopping could donate to the Téléthon by paying for rides. A very noble cause, because they are not only having the time of their lives as car enthusiasts, but they also do a good deed.
It was organized with the French authorities and everything went smoothly. A lot of nice cars were present: Ferrari Enzo, Noble, F430, 458 italia, Porsche GT2, Viper SRT-10, Lotus Elise and Exige, Aston Martin DBS, Ferrari California and the Lamborghini Gallardo Nera. Prices of the rides depended on the car you chose for your ride, ranging from € 10 to € 25 and € 75 for the Enzo. Sadly, the Gumpert Apollo S and F40 didn't show up due to the harsh weather.
The Enzo ride by Alex Smolik is visible in the video below.