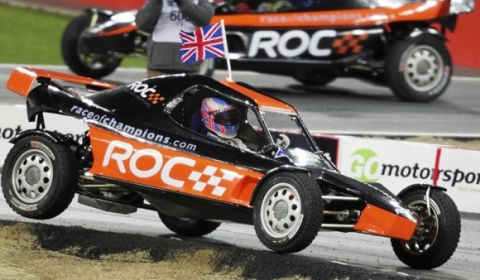 This year's Race of Champions 2011 is held in the Dusseldorf Esprit arena for the second time in a row. The Race of Champions is an international motorsport event held at the end of each year, featuring some of the world's best racing and rally drivers.
The drivers list for this year's Race of Champions features Sebastian Vettel (F1-kampioen 2010-2011), Michael Schumacher (zevenvoudig F1-kampioen), Jenson Button (F1-kampioen 2009), Andy Priaulx (drievoudig WTCC-kampioen), Tom Kristensen (achtvoudig Le Mans-winnaar), Mattias Ekstrom (DTM-piloot, drievoudig RoC-winnaar), Sébastien Ogier (WRC-piloot), Romain Grosjean (GP2-kampioen 2011), Vitaly Petrov (F1-piloot), Timo Glock (F1-piloot), Timo Scheider (DTM-kampioen 2008-2009), Martin Tomczyk (DTM-kampioen 2011), Juho Hänninen (IRC-kampioen 2010, S-WRC-kampioen 2011), Jan Kopecký (IRC-piloot), David Coulthard (ex-F1-piloot), Filipe Albuquerque (DTM-piloot, regerend Champion of Champions), Brian Deegan (13-voudig X-Games-medaillewinnaar), and Travis Pastrana (viervoudig Amerikaans rallykampioen, motorcrosslegende en stuntheld).
You can follow the event via the livestream above. Prior to the Race of Champions eight two-person teams based on their nationality compete in the ROC Nations' Cup where a team advances by going head-to-head with another country's team and winning two races out of three. If each team wins one of the first two races, the winners of each round go head-to-head in the decider. The advancing team then goes through the semi-finals and super-finals, by which time only two teams remain.
In the main event – 'The Race of Champions' itself – the individuals compete head-to-head in one race around the track, with the winner advancing and the loser getting knocked out. Similar to the national race, the drivers are gradually eliminated until two reach the super-final. In both the ROC Nations' Cup and the Race of Champions, the super-final consists of three runs. The team or driver that achieves two victories first wins.
Today you can check the ROC Nations-Cup between the 19:00 – 22:00 German local time. On Sunday you can follow the Race of Champions beteen 14:00 – 17:00 German local time.