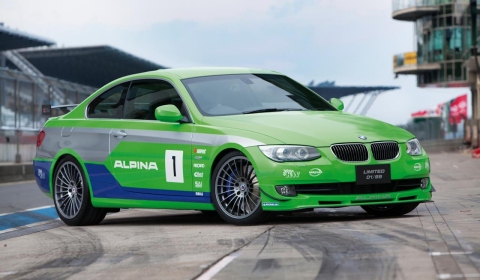 German specialist Alpina BMW released their 2012 Alpina BMW B3 GT3 at the Tokyo Motor Show 2011. The Alpina BMW B3 GT3 combines characteristics and technical features of the Alpina BMW B6 GT3 race car with classic design elements of Alpina automobiles of the past.
The twin-turbocharged 3.0 liter in line six-cylinder engine from the Alpina B3 S Bi-Turbo is also used in the B3 GT3. By amending the exhaust system and replacing the rear silencer the back pressure has been further reduced, increasing output in the B3 GT3 by 8hp. The direct petrol injected engine now delivers a total power output of 408hp at 6,000rpm and 540Nm of torque at 4,500rpm.
Developed in collaboration with Akrapovic, the Slovenian titanium exhaust specialist, the B3 GT3 exhaust system is lightweight and has a raspy sound. The use of Titanium for the rear silencer and tailpipes, in addition to other constructional design measures such as the removal of the middle silencer, the use of an x-section and larger diameter pipes, has resulted not only in a reduction in back pressure but also a weight saving of 11kg. The exhaust system 'only' has two typically Alpina oval shaped tailpipes but of increased diameter (115mm).
The B3 GT3 features a high performance motor sport brake set-up with six-piston fixed callipers at the front and four-piston fixed calliper at the rear, with discs measuring 380x35mm at the front and 355x32mm at the rear. The brake callipers are painted in blue with discrete Alpina writing in silver.
The sports car rides on Alpina Classic light alloy wheels. The design of the 19 inch lightweight forged alloy wheels, which are painted in Himalaya Grey, has been inspired by the B6 GT3 race car. The twenty spokes, which are 25 percent lighter, result in a further weight reduction of 10kg, despite increasing half-an-inch in width to of 8.5×19 inch front and 9.5×19 inch rear (front: 8.6kg, ear: 9.5kg). A race-bred coilover sports suspension ensures a sporty ride.
Like other Alpina cars, the front end aerodynamics received a carbon fiber front splitter mounted under the front spoiler and dive plates mounted on the side of the front valence. At the rear you will find a diffuser and a carbon wing.
All B3 GT3's feature a Leather/Alcantara interior upholstery in black, both driver and passenger are seated in lightweight Recaro sport seats with seat heating. Vertical stripes designed in Alpina racing colours are integrated into the front and rear seats. The sports steering wheel with paddles is finished in grippy Alcantara, hand finished with Blue/Green stitching.
For customers wishing to have a built-in navigation system, B3 GT3 is available with an optional Comfort Package, which includes BMW Professional Multimedia Navigation System and BMW Park Distance Control (PDC). Other BMW options are not available. The B3 GT3 is available as standard in Black Sapphire metallic and Mineral White metallic or optionally in special paintwork Alpina Blue matt metallic. The interior trim is carried out in Alcantara black with Alpina writing (embossed).
The sports car is strictly limited to 99 cars, the Alpina BMW B3 GT3 will be available from spring 2012 at a price of approx. € 90,000 including 19 percent VAT. The B3 GT3 is optionally available with a full body vinyl wrap in the official B6 GT3 race car design (green/blue/silver), including interior trim in green lacquer. All cars are equipped with a rear axle with a Drexler limited slip differential, similar to the B6 GT3 race car. Every B3 GT3 is labelled with a specially designed production plaque in the interior.