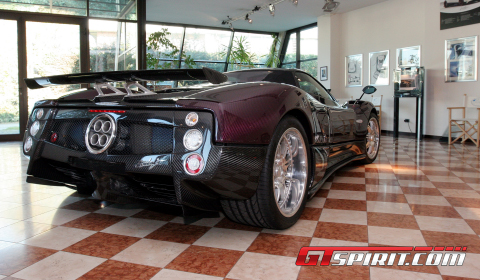 Our photo of the day features a rather unique vehicle. The avatar and gallery show the last Pagani Zonda F Roadster ever build. The photos were made by our Italian reporter and photographer Matteo Grazia, who will show more of his work on our front page in the upcoming days.
A total of 25 cars were manufactured of the open-top Pagani Zonda F and the one on the pictures is the final model, number 25, parked inside the Pagani showroom in Italy. The body is made entirely of carbon fiber and a combination of a purple / dark pink interior, and a purple and black carbon fiber trim.
The 7.3 liter Mercedes-Benz AMG V12 engine delivers 680hp. 0-100km/h is done in 3.6 seconds with a top speed at 345km/h. The unique supercar is going to Ukraine. The owner also ordered a Pagani Zonda R.
In the end, you could argue about the design choices the owner made, but the photo shoot does show the truly unique workmanship of the engineers at Pagani and the skilfulness of the people working at the Italian car maker.