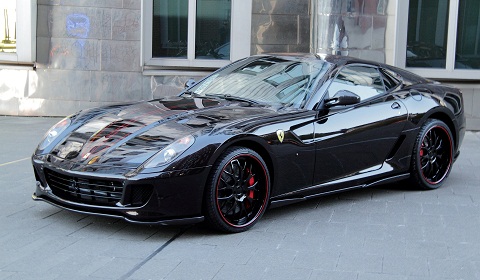 Dusseldorf-based Anderson Germany has unveiled their latest project. Based on the Ferrari 599, Anderson have added performance, aerodynamic and cosmetic upgrades to make the Italian Gran Turismo.
This Ferrari 599 has an extra 54hp bringing the total up to 674hp. This has been acheived thanks to optimised software and a new exhaust system. It features a valve system, which can be adjusted by remote control with two different sound stages. Zero to 100km/h is achieved in just over three seconds and top speed is in excess of 300km/h.
Carbon fiber has been used throughout the vehicle. A new mirror casing, front bumper, side skirts and rear bumper have been added. There's a new rear diffuser finished in Anderson Germany's new "Black Diamand Metallic" with glossy black racing stripes. Tyres are size 9×21 inch three-spoke, black rims with red trimmings coupled with 245/30-21 tires. Larger 12×21 inch rims with 345/25-21 tyres are fitted to the rear. Brake callipers are finished in red.
The interior of the Ferrari 599 has also been modified by Anderson Germany. A complete new finish with black carbon leather and contrasting red perforated leather. Another feature is the diamond-shaped stitching and the red seat upholstery. The gearshift, door handles, window lifters, door sills and center console have been manufactured entirely from the carbon fiber.