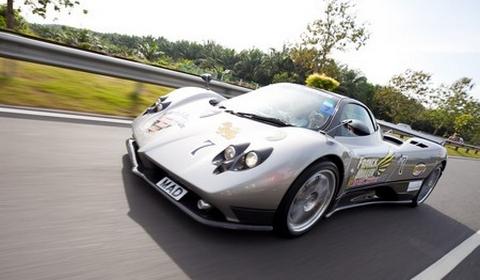 Rallys are a common thing in the automotive world. Across the planet enthusiasts participate in these kind of events. One of those is the Franck Muller Super Car Tour. It is an event organised for privileged Franck Muller watch collectors and fellow car enthusiasts. It takes the participants in a six days rally from Singapore to Malaysia and Thailand.
Sir Kevin Chau, Chairman of Frank Muller Asia, said:
The rally also celebrates true spirit of Franck Muller and its legacy of excellence in watchmaking.
This year the fourth edition started November 2nd at the Shangri-la hotel in Singapore and went via the Palace of Golden Horses in Kuala Lumpur to Penang. The second day the participants drove on to Phuket where the whole event stayed for two days in the exclusive Trisara resort. The rest of the trip had these kind of stops before it ended on November 7th in Thailand.
The lineup at the start of the rally can easily be called 'impressive'. With a Pagani Zonda F, a limited-edition Mercedes-Benz DTM CLK and a Lamborghini Murciélago LP 760-4 SV on the grid we just name three cars of the convoy estimated $ 25 million.
[via Motoring Asiaone]