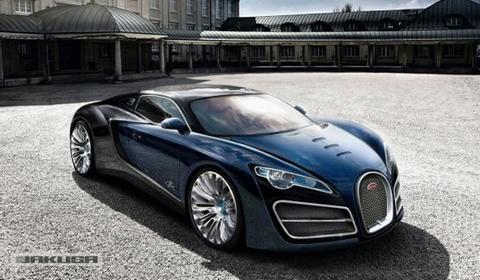 The Bugatti Veyron is and will be one of the most epic supercars of the last decade. The release of a succesor to the Veyron has been rumoured for some while now. Bugatti will continue to produce the world's fastest cars, a promise by the new chief executive Wolfgang Durheimer. A statement suggesting a continuation of the philosophy behind the Veyron.
There are designers in this world that let us dream about a future Veyron. One of them is Tamas Jakus who has created a rendering of how a Veyron successor might look like. The changed look is the most noticeable difference. Tamas Jakus also gave his rendering a name, Ettore. It is named after the brands founder, Ettore Arco Isidoro Bugatti.
When looking at the design its not hard to recognize the current Veyron (Super Sport), but Tamas Jakus went further than just a design. He claims that the Ettore will be powered by a 8.0 liter V16 quad-turbocharged engine creating 1,200hp, the same output as the current Super Sport. Furthermore, the Ettore would do the sprint from standstill to 100km/h in just 2.2 seconds and reach a top speed of 422km/h.
Pure speculative of a mind suggestion the future of Bugatti. It is up to the French/German company to show their skills in the years to come.