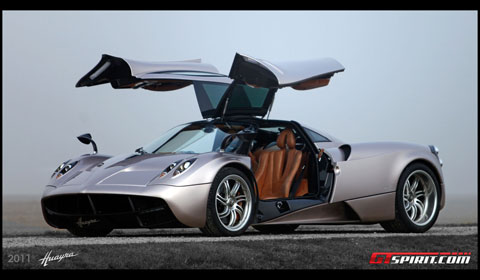 Click to enlarge – Photo by Christiaan Ploeger
To celebrate our Facebook wall photo number 1,000 our Photo of the Day is a wallpaper preview of the Pagani Huayra photo shoot and test ride that we had in Italy this weekend.
The Pagani Huayra is the successor of the legendary Pagani Zonda. The Huayra is a completely new car and shares no components with the Pagani Zonda. The 7.3 liter V12 NA AMG engine has been swapped for a 6.0 liter twin-turbo V12 also from AMG. The power output of this new twin-turbo engine is an impressive 700 horsepower and 1,000Nm of torque.
The Huayra has a sequential seven speed gearbox which weighs just 96kg. Thanks to the extensive use of carbon fiber and re-engineered parts to save weight the combined weight of the Huayra is just 1,350kg. The Pagani Huayra costs € 825,000 excluding taxes.
The Pagani Huayra at the Geneva Motor Show 2011