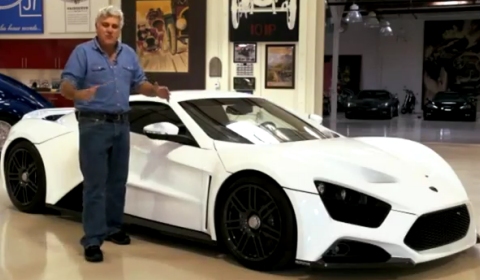 The 1,100hp Zenvo ST1 has reached Jay Leno's Garage. Jay Leno talks with Jesper Jensen and Troels Vollertsen from Zenvo Automotive and discusses the highlights of the hypercar.
The Zenvo ST-1 is powered by a Veyron-beating 7.0 liter V8 engine with both a supercharger and a turbo. The Danish supercar develops 1,104hp of power and a massive 1,430Nm of torque. But the Zenvo ST-1 50S is upgraded to a whopping 1,250hp, an extra 146 horsepower over the other 12 Zenvos.
All that power will be transferred via 6-speed manual transmission to the rear wheels only. The Zenvo blasts itself from standstill to 100km/h in 3.0 seconds, the top speed is electronically limited at 375km/h.