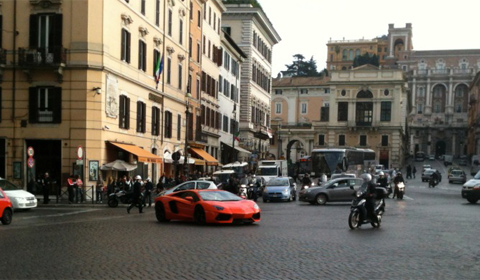 On the day that Top Gear announced its return with Top Gear Season 18 in January 2012 we received photos of Jeremy Clarkson spotted in Rome behind the wheel of a Lamborghini Aventador. Jeremy and the Aventador were accompanied by a camera car also visible in the pictures below and seen driving around the famous Piazza Venezia in the center of Rome.
Top Gear in Lecce
Jeremy Clarkson wasn't the only Top Gear presenter sighted in Italy. In fact all three, Clarkson, May and Hammond were in Lecce with a Noble M600, McLaren MP4-12C and Lamborghini Aventador. All of them in red, a colour that has been the Ferrari signature for decades.
The two videos below share an interesting view behind the scenes of how the Top Gear episodes are shot. What is even more interesting is that the city of Lecce is located all the way in the Southern part of Italy, close to the famous Nardo high speed ring. Whether the Top Gear trio took the three supercars out there for a high speed run will become clear in January 2012 when the first new episode of Top Gear Season 18 airs.
[Photos by Albin Karlsson via Feber.se]