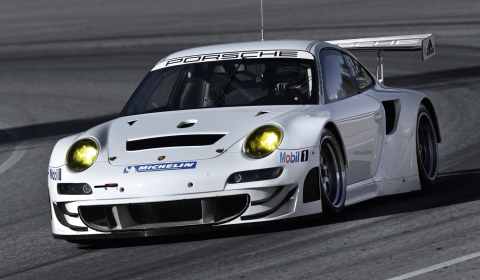 The new 2012 Porsche 911 GT3 RSR is ready, so no 991 but still a 997 model. The top model of Porsche Motorsport's customer racing vehicles will head into the 2012 season with some extensive modifications.
The width of the new GT3 RSR has grown by 48 millimeters. The diameter of the front wheels has increased by 30mm to now measure 680 millimetres.The aerodynamic concept features by a new ducting of the intake air. Openings in the rear side sections, as known from the turbo variants of the Porsche 911, replace the air scoop on the engine hood, which is very similar to the 911 GT2 RS street sports car.
The new 911 GT3 RSR can be raced at the Le Mans 24 Hours, the FIA World Endurance Championship, the Le Mans Series, the American Le Mans Series as well as the International GT Open and in other series and races.
The new Porsche 911 GT3 RSR will be delivered to customer squads around the world from January 2012. The selling price is € 498,000 plus value added tax of the respective countries.