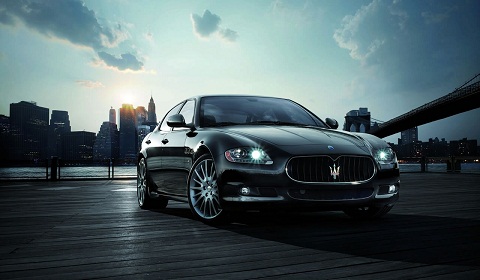 Reports have surfaced that the Italian Government, more specifically, the Italian Ministry of Defence have just taken delivery of 19 Maserati Quattroportes in times of austerity. The Quattroporte's are all said to be armoured and will most likely replace similar cars already used by state officials. The matter was raised in the Italian Parliament today by the Democratic Party's Emanuele Fiano.
The news has raised eyebrows among the opposition mostly due to the timing of the delivery. The Italian economy has hit hard times recently and is suffering economic uncertainty. Whilst it isn't the only country to be suffering, it seems that with it's debts reaching 120 percent of its Gross Domestic Product, Italy is struggling to reach repayments. The Prime Minister Silvio Berlusconi has introduced an austerity package which stands at odds to the delivery of these expensive luxury cars.
Italian Prime Minister, Silvio Berlusconi, is the only head of state to use the Quattroporte as his official state car. Armoured Mercedes S-Class' are favoured by the Danish Prime Minister Helle Thorning-Schmidt, Greek Prime Minister George Papandreou and the Dutch Prime Minister Mark Rutte. Audi fans include the Spanish Government, Prime Minister José Luis Rodríguez Zapatero uses a 2005 Audi A8L. German Prime Minister Angela Merkel is careful to keep a fleet of German armoured luxury saloons and maintain her neutrality. David Cameron, British Prime Minister, uses a Jaguar XJ Sentinel, the armoured version of the 2010 XJ.
Further afield, Barrack Obama, the President of the United States uses the famous Cadillac One custom-built limousine. The most luxurious state cars belong to royal families. For example, the Sultan of Oman maintains four state Maybach 62's and predictably, the Sultan of Brunei uses various Rolls-Royce and Maybach models that sit alongside several thousand luxury and exotic cars.
The Maserati's are reported to be Quattroporte Sport GT S models. This means that they feature 434hp from a 4.7 litre V8. Whilst the standard model will sprint 0–100km/h in less than 5.1 seconds, these armoured versions will suffer the burden of extra weight. Estimates place each of the 19 car's individual weight at 3,300kg and the price at over € 200,000. Estimates would therefore place the value of Mr Berlusconi's new state fleet at around € 3.8 million.
[Via Telegraph]