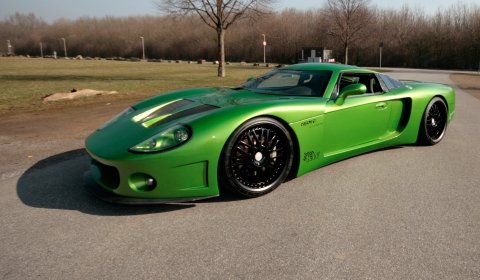 Tom Gerards, Head of CCG automotive GmbH and creative director of an unique project, has officially released the CCG customGT. The basis for this project is a powder-coated tubular space frame that is made in the USA and re-engineered (homologated) and fine-tuned here in Germany.
The outer skin is made from either fiberglass- or carbon fiber-reinforced composites, and toned by specialists in the U.S. CCG makes adjustments to the car's body. The result is a pleasingly low vehicle weight, which, depending on the equipment, weighs in at only 960kg and 1,040kg.
The engine is an optimized V8 by General Motors, which has its origin in the Corvette. Thanks to its fine-tuning, the seven-liter engine produces up to 550hp. The engine's power reaches the rear wheels via a manually-operated six-gear transmission. The top speed is variable between 285km/h and 320km/h depending on gear ratio and application. Acceleration from 0 to 100km/h is done in less than 3.3 seconds.
The setup features a tubular space frame made of 45 FE steel, double wishbone, spring damper units with performance tuning for street and/or race track and multi-adjustable sports sway bars. Coil-overs were specifically designed by KW suspensions.
Stopping power comes from a MOV'IT six-piston brake calipers 370x35mm in the front / four-piston calipers and 342x28mm at the rear. Teflon-coated flexible stainless steel brake lines were also installed.
A mixture of Alcantara and black leather as well as instruments "borrowed" from the racing sport make up the interior trim. Besides the outer appearance, the entire interior and the engine can be tailored to the needs of the clientèle.
Upon request, CCG equips the two-seater with an LPG (Liquefied Petroleum Gas) system and converts the vehicle into a racy 300km/h, ultra-lightweight eco-super sports car. The average fuel consumption of the customGT lies by 15 – 20 liters of gas per 100 kilometers. This is equivalent to 50 cents per liter of gas; just € 7,50 to € 10,00 for 100 kilometers.
In addition, another model, called "competition", is planned for spring 2012. Weighing in at just below 1,000kg and by installing additional motor sports components such as sports chassis provided by KW suspension, MOV'IT brakes with racing pads and a special engine mapping.
Estimated price tag of the base model is: € 113,500.