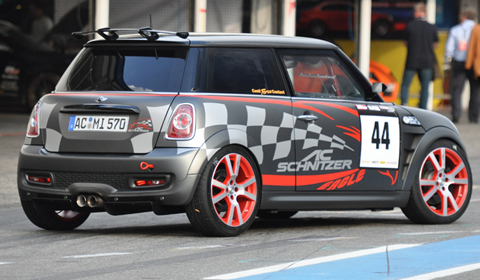 The AC Schnitzer Eagle is a concept vehicle based on the Mini John Cooper Works. The small but powerful car, developed as a technology platform, showcased its performance at the Hockenheim racing track in Germany.
AC Schnitzer reduced the weight of the car by 80kg. Additionally, the tuner from Aachen increased to power of the Mini JCW from the standard 211hp (155kW) to 260hp (191kw), resulting in a power-to-weight ratio of 4.03kg/hp.
The maximum torque increased from 280Nm to 340Nm. Thanks to these upgrades, the AC Schnitzer Eagle is able to accelerate from standstill to 100km/h in 5.8 seconds and to reach a top speed of 250km/h.
Furthermore a new exhaust system and height-adjustable racing suspension were installed. For a final touch 18 inch rims were fitted. The total value of the Eagle is € 62,000, but sadly the car is not for sale.
Watch the video below to see the powerful Mini lapping the short course of the Hockenheim Circuit. For more information and pictures click here.