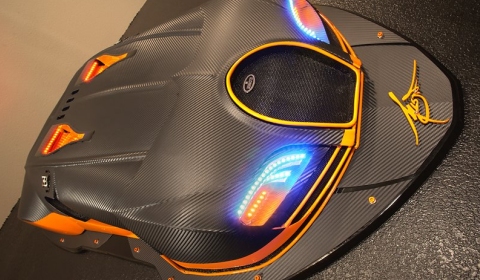 At the first you ask yourself what the heck is this, but after reading the website of the artist Misjif you are intrigued by his creations. He describes his work as the finest automobiles in the world represented in a rare one-of-a kind artistic style of fine automotive art, illuminated art to be precise.
Each sculpture is hand formed and hand built by the artist with 22 gauge steel and the finest woods available. Each piece is massive, most measuring five feet in length by three feet in width, and illuminated by modern energy efficient LED technology. Like a massive sconce, they are built and designed to hang on the wall and can weigh around 90lbs.
Every year he does a limited run of five illuminated sculptures of personally-selected automobiles that have profoundly inspired him. This limited run of five can be purchased through the website or at any Concours event you find him.
Up to know he did six different pieces of art based on exclusive cars, like the Bugatti Veyron Super Sport, Lamborghini Reventon, 1964 USRRC Cobra, Ferrari Enzo and more.
You can check Misjif's art on his personal website Misjif Motors.