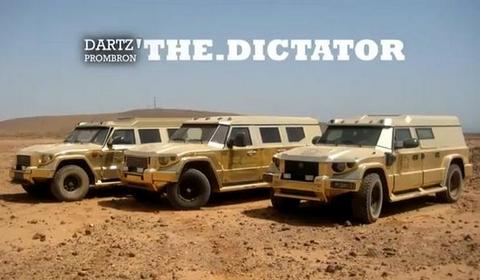 A few weeks ago we showed you a series of pictures and a video of the Dartz Prombron on the filmset of Sasha Baron Cohen newest film, The Dictator. Today we can show you a second video showing the Dartz Prombron in action.
The upcoming movie will be based around the story of ex-Iraqi dictator Saddam Hussein and is scheduled for a May 2012 release. Next to the three Prombron's the movie will also feature Megan Fox and others Hollywood stars. The Prombron comes with either a Vortec 6000 V8 producing 360hp, a Vortec 8100 V8 with 400hp or a 6.6 liter V8 Duramax diesel engine producing up to 360hp and 980Nm of torque at 1,800rpm.
Please stay tuned for more as we expect to see more from the filmset soon!