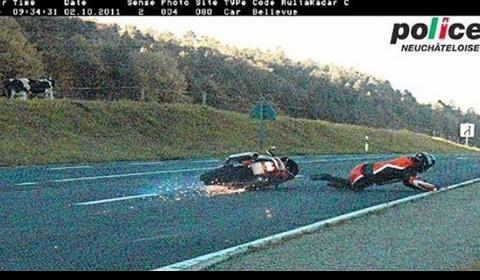 All of us who like to put their foot down know that we sometimes have to deal with the less amusing part of speeding. Hidden speed traps and speed cameras are a pain in the ass, providing even more dangerous situations than the speeding itself.
Motorcyclist Boris Maier was riding his bike near Bern, Switzerland when he suddenly noticed a speed trap. He tried to save a big penalty by braking hard but at that point he lost control over his bike and passed the camera sliding over the ground.
According to the police, Maier was doing 107km/h in a 80km/h zone. He was quite lucky that he didn't get caught at 110km/h, because then he would have lost his bike and his driving license.
[Via Autoblog.com]