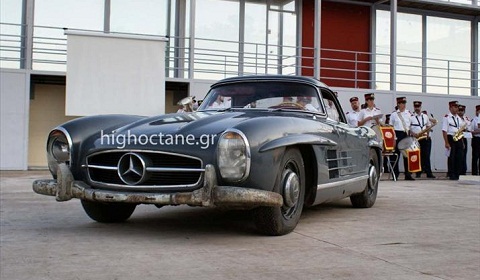 Raising capital is high on the Greek government's list of things to do at the moment. For this reason, the sale of an unrestored 1960 Mercedes-Benz 300SL Roadster for € 405,000 will be welcomed. The funds will go towards maintain a park in the city of Piraeus in memory of the donor, Kriton Dilaveri.
The government came into ownership of the car in 1974 when Kriton Dilaveri died and left his beloved 300SL Roadster to the city of Piraeus. Since then, the car has sat in a government car park untouched until it was sold recently by the city. The winning bidder was a German, Rajna Hildebrandt, who wanted the car to complete his collection; the 300SL Roadster Hartop will join a standard Roadster and a 300SL Gullwing.
In its 14 years of use with Dilaveri, the 300SL covered 97,172km (60,380 miles). It's new owner reckons that it won't take a lot of work to restore the car with most of the damage being superficial. The hardtop element to this car is what makes it so rare. It was available as an option on all 249 1960 Roadster models. In total 1858 Roadsters were built, and whilst we haven't found any figures on the amount of hardtops in existence, you can be sure that the number is considerably lower.