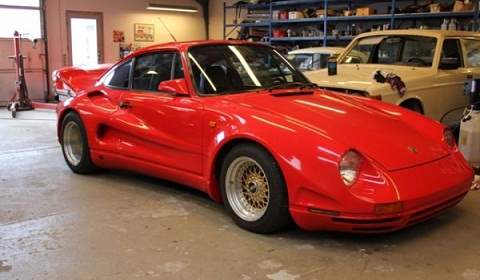 Koenig Specials are probably best thought of in the same way as modern tuners Mansory or Hamann. We say this because you either love the cars they produced, or you hated them. Back in the late 70's and throughout the 80's, the German tuner produced niche machines based on the most exotic cars of the time. One example is this is the Porsche 930 Turbo we recently found for sale in Denmark via Racecarsdirect.
The Porsche 930 Turbo used a 3.0 liter turbocharged and air-cooled flat-six rated to 260hp back in 1976. Koenig Specials took this as a base and enlarged the engine, then added a turbocharger to bring the power up to 480hp. It's not clear if the owner of this car opted for those upgrades, but the car definitely features the distinctive Koenig Specials 'Road Runner' body modifications.
This car features Koenig side panels, nose with Porsche 928 headlights mounted closer to the ground than those of the stock 930, a completely reworked rear end including the tail lights of an Audi 200 Turbo and of course, the mandatory oversize spoiler. This particular car features a set of gold BBS rims.
Looks a lot like the 959 doesn't it? Perhaps we can expect the next 911-based super-Porsche to look like the Gemballa Avalanche we drove recently!