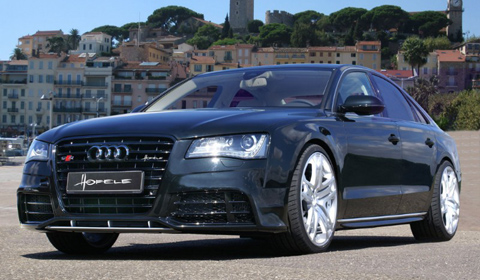 Hofele Design has presented their package for the Audi A8. According to the German tuner their Audi SR 8 is both sportive and elegant at the same time.
The new body kit consists of a new front bumper inspired by the Audi RS5, a rear apron with diffuser, a four-tube sports muffler and a rear trunk spoiler. The diffuser can either be painted in the cars colour, a contrasting colour, or can be ordered with a layer of real carbon.
The Audi can be fitted with a variety of wheels ranging in size from 20- to 22 inch. Hofele offers an electronic speed-related lowering module which lowers the car by 40mm. Interestingly though, this system is only enabled below a speed of 70km/h. If the car goes faster the system will be deactivated, according Hofele this should improve the comfort and security. One would expect this system would benefit the handling and roadability, especially at high speeds.
The engine of the Audi is tuned via software optimization. The petrol powered 4.2 V8 FSI engine is tuned from 372 horsepower to 390hp and the diesel powered 4.2 TDI CR is tuned from 350hp to 390hp with the impressive torque figure of 900Nm.
On the inside, a bi-coloured interior with special stitching has been installed. The German tuner also offers a combination of different premium materials like smooth leather, rough leather or Alcantara. The door panels and steering wheel can be covered in leather as well.
For more information please contact Hofele Design.