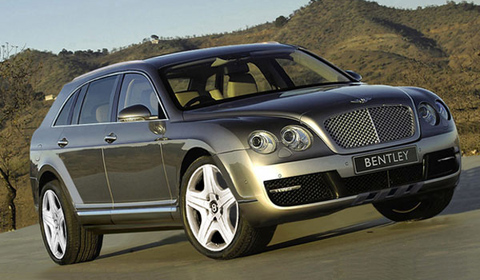 What kind of engine will power the Bentley SUV has been multiple times the subject of speculation and rumors. But now the company's CEO Wolfgang Dürheimer has announced the British luxury SUV will be propelled by a 12-cylinder engine.
According to Autocar, the upcoming Bentley SUV will arrive with a 12-cylinder petrol engine to satisfy the company's luxury ambitions. As Dürheimer states:
We will be first to use a 12-cylinder petrol engine in a luxury SUV. I like this idea; it makes clear whose car is the boss.
The engine is likely to be a next-generation version of today's W12 unit used in the Continental family, but a diesel powered engine is also being considered. Dürheimer earlier said that he is a strong supporter of Bentley adopting diesel.
Therefore the engine bay of the Bentley SUV will be designed to feature an engine in V-configuration as well. This will likely be a next-gen version of Audi's 6.0 liter V12 TDI, which currently powers the Q7.
The Bentley SUV is scheduled to hit the markets in 2015. According to Dürheimer the launch of the car will be dictated by the cyclicity of models:
The Mulsanne came in 2010, then the Continental no more than a year later. The lifespan of a model is usually six to eight years, so the new model will be valuable when we are expecting a lull. The downswing is the time to introduce this SUV.
The Bentley CEO is also absolutely convinced the SUV will become a success:
Ninety-nine per cent of Bentley owners also own an SUV, I am absolutely sure the demand is there. Absolutely thousands of premium SUV's have been sold — Cayennes, Range Rovers, Q7's and so on — but nobody has given those owners the chance to upgrade. We will.