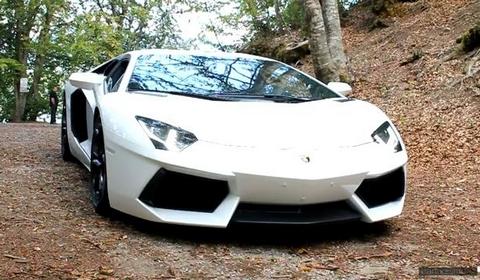 It's no more than normal that a car like the Lamborghini LP700-4 Aventador keeps getting our attention. After showing you live pictures of the car at a dealership in the Netherlands and a video showing a drag race with a Nissan GT-R, we can now show you a video of the Aventador being tested by a French magazine.
To refresh your mind we can tell you that the Aventador comes with a 6.5 liter V12 producing a total of 700hp together with 690Nm of torque. Acceleration from standstill to 100km/h is done in just 2.9 seconds and the top speed is 350km/h.
Because the reporters only use the French language in the video this is a short translation of what they are saying next to details about the engine and measures of the Aventador:
Competition with what car? A Ferrari 599 GTO? They are all sold … Porsche 911 GT2 RS, the same, the are sold out. Aston Martin One-77 is four times as expensive and it's doesn't go much faster. In fact, there's no competition for the Aventador. When driving, this car is different with the GTO or the Aston Martin, I can't find the limits. Also this car isn't made for normal roads, I dare to say that a Gallardo is a limousine compared to this Aventador. Still, it's a fascinating car and the most aggressive Lamborghini I know.