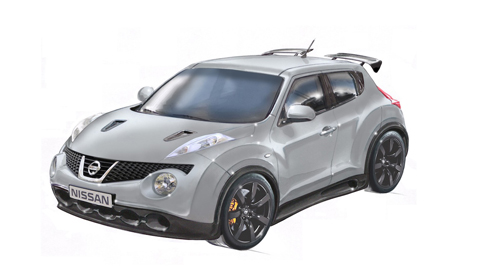 The Nissan GT-R is well known for its impressive performance. The Nissan Juke is an unusual styled mini-crossover and somehow the Japanese decided to combine these two very different cars. The result is what Nissan calls 'the ultimate compact crossover'.
The 520 horsepower Nissan Juke-R is currently under development. The car will be powered by the same 3.8 liter twin-turbo V6 as the Nissan GT-R supercar. Also taken from the GT-R is the six-speed transaxle, with the front and rear ends joined by a modified GT-R 4WD driveline and prop shaft.
On the outside, the Juke-R will receive a revised front and rear end, as well as a split rear wing and revised wheel arches filled with GT-R rims. The interior was transformed by adding gauges, dials and the 7-inch LCD display from the GT-R. Race-seats with five-point harnesses and a visible roll cage will be installed to enhance the racing look.
The Nissan Juke-R is currently being developed and is expected to complete its first tests in November. But the Juke-R will never make it into production, the car is an one-off road legal concept to test the public's reaction to a seriously sporty Juke.