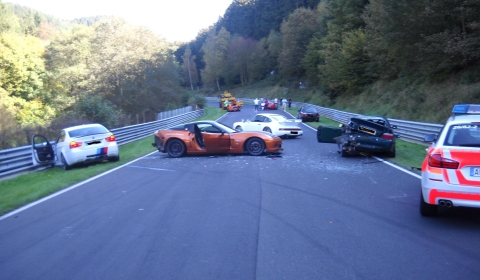 Yesterday around 14:00 in the afternoon, a serious traffic accident happened on the Nordschleife of the Nürburgring with a total of eight vehicles involved including the famous BMW M3 Ring Taxi. The accident took place in two phases with drivers from several European countries involved.
The accident was probably caused by speeding. In the section called "Bergwerk" a construction company set up by a construction zone. While most of the drivers realized this, a fourth driver from England was trying to brake, but could not prevent a side collision with a car driving ahead. The car then hurled into the grass. After 50 meters it came back on the road where it hit two other cars.
The accident situation was recognized by three other drivers and they were able to slow down their cars. Another car, a BMW M3 ring taxi, did not pay attention and crashed against two of the decelerating cars. The ring taxi eventually stopped against the guard rail. Except for one single vehicle, all cars were severely damaged and no longer roadworthy. The estimated damage is more than € 100,000.
The crash followed a second crash earlier in the weekend where someone who wanted to help at an accident was hit by another car. Apparently the safety regulation table is doing nothing and on the TV wall where normally the safety video is shown there are now commercials.
Update: Five new pictures of the crash
[Via
Polizei RheinlandPfalz
and
Mike Frison
]