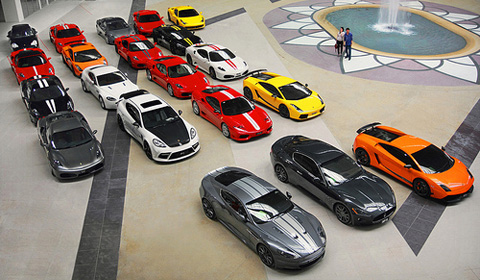 Todays edition of the Photo Of The Day features not one, but many exclusive cars. Photographer Alexander Krasnikov was able to take this picture of an impressive collection of super cars grouped together in Malaysia.
The cars featured in this picture are an Aston Martin DBS, Aston Martin V8 Vantage, Ferrari 360 Challenge Stradale, eight Ferrari F430s, two Ferrari F430 Spiders, Ferrari 458 Italia, Maserati GranTurismo, Lamborghini Gallardo, Lamborghini Gallardo Superleggera, Lamborghini Gallardo LP 570-4 Superleggera, Mansory Panamera Turbo and a Porsche 996 Turbo.
For a high-resulution of this shot and more pictures by Alexander Krasnikov visit his photostream at Flickr.