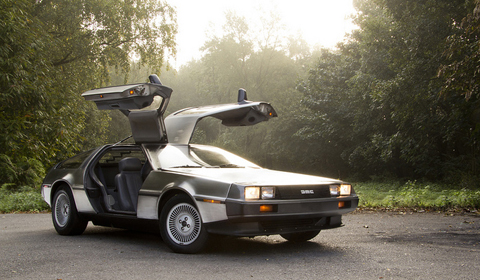 The stainless steel DeLorean DMC-12 is one of the most iconic cars of the eighties. The car is most notably featured as the time machine in the Back to the Future film trilogy.
The sports car was designed by Giorgetto Giugiaro and manufactured by DeLorean Motor Company in Northern Ireland for the American market in 1981–1982. The DMC-12 features a number of unusual construction details, including gull-wing doors, unpainted stainless-steel body panels, and a rear-mounted engine.
The 2.8 liter V6 provided 150 horsepower in euro-specs. But in the United States, emissions regulations required that parts such as catalytic converters be added to the vehicle before it could be sold there. This caused a 20 horsepower reduction to the vehicle's power output, a loss which seriously impeded the DMC-12's performance.
The top speed of the DeLorean is 175km/h and the car was able to accelerate from standstill to 100km/h (62mph) in ~10.5 seconds. Even more staggering was the acceleration to 160km/h which took about 40 seconds. Performance of the Delorean wasn't its selling point.
The DeLorean Motor Company went bankrupt in late 1982 following John DeLorean's arrest in October of that year on drug trafficking charges. He was later found not guilty, but it was too late for the DMC-12 to remain in production. About 9,200 cars were produced between January 1981 and December 1982.
Despite the poor performance, the only model produced by the DeLorean Motor Company became an instant classic. This was especially due to its appearance as a time machine in the successful Back to the Future movies. When the film came out in 1985, John DeLorean wrote a letter to Bob Gale, one of the movie's producers and writers, thanking him for immortalizing the car in the film.
Our friend John Rampton has made some great shots of this iconic car. For more pictures, check out his photostream at Flickr.