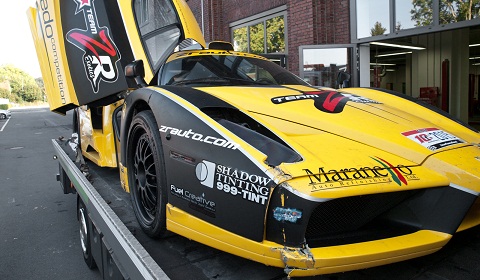 Our friend Philipp Lücke recently got a chance to see the Edo Competition Ferrari Enzo XX Evolution that crashed in Canada. The car has landed in Germany for repair works to be carried out by Edo at their Ahlen-based workshop. Zahir Rana, the car's owner, had his 860bhp Enzo XX Evolution transported via air-freight to Germany after the accident.
We were offline when the accident happened so we'll give you a few of the key details now. The Ferrari Enzo had been taking part in the Targa Newfoundland 2011 rally. The rally is an annual 2,200 kilometer event taking place on Canada's Newfoundland Island. The driver, Zahir Rana and his co-pilot, Roland Linder, survived a dip into the Atlantic Ocean after hitting a bump on gravel. The car suffered severe water damage a cracked headlight and a few other minor issues.
This isn't the first high-profile water-related car crash. Back in 2009 an unfortunate Texan drove his Bugatti Veyron into a lake. The car was sold earlier this year, having been left since the accident in a state of disrepair.
We suspect that the hypercar will need a new interior and extensive mechanical work. It will be a long and expensive task but Edo, being the people who carried out the conversion originally are more than qualified for the task. Take a look at the photos and videos below!