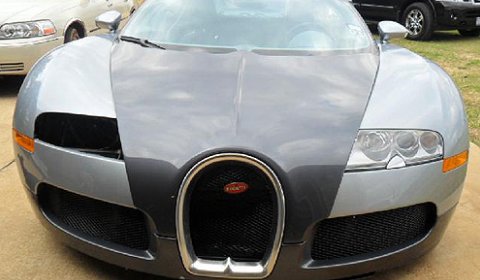 Do you remember the guy that drove his Bugatti Veyron into a lake in Texas? It happened about 1.5 years ago in late 2009. The driver reported he was distracted by a low-flying pelican. In the end videos proved something else and we were left with an open-ended story.
In the end the owner swapped his hypercar for a new Veyron in a different color trim. The crashed car now seems to be up for sale in an insurance salvage auction, according to Motorauthority.com. The gray 2006 Bugatti Veyron 16.4 coupe with 1,869 miles on the odometer has a listed cash value of $ 1,500,000 but will most likely fetch much less due to the car's water damage.
For those of you of may be interested. The vehicle ditched into a lake filled with salt water. Making it even worse the owner left the engine running for at least 15 minutes before it finally drowned.
Update: It seems that the gray 2006 Bugatti Veyron 16.4 has been removed, has been sold or is temporarily unavailable.