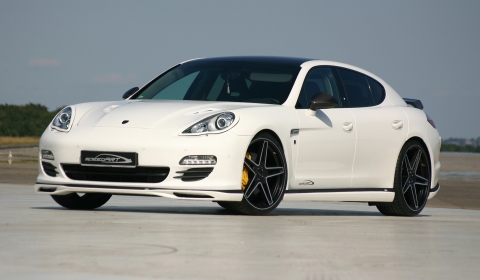 German tuner SpeedArt has released their PS9-300D package, which is based on the new Porsche Panamera Diesel. The Germans installed a body kit, improved the performance and fitted some new wheels.
The power kit offers a total of 300hp and 650Nm of torque. At the rear you will spot sportive twin tail pipes fitted to the original muffler. Sport-design brake calipers finish off the technical highlights.
The aerodynamic kit named PS9 features a front chin spoiler, side skirts, rear diffusor, front and rear air intakes and rear spoiler (double wing). The 22 inch monobloc FSC wheels have five spokes and are available in a bicolour-version with 265+305 ZR 22 inch tyres.