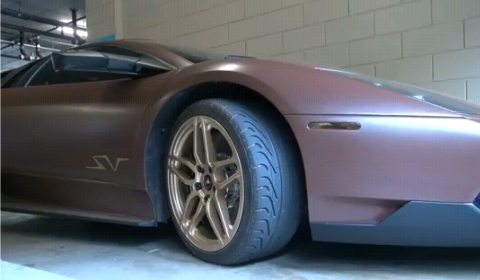 Check out this Lamborghini Murcielago LP670-4 SV, shown in this incredible color scheme filmed by Drake Mumford. It has gold powder coated rims and a matte brown wrap.
Both the SV and the white 6.0 are owned by Roy Cats of Cats Exotics, one of the most prestigious Lambo dealerships in the US.
This example is also one of the very few SVs to have the six-speed manual gearbox option-again, mad respect to Mr. Cats. Another thing that makes this car special is the spoiler delete option, a very rare choice in the order form to get rid of the huge wing that usually stands tall on the SV, which doesn't take away from the aggressiveness of the car, but adds another level of classiness.