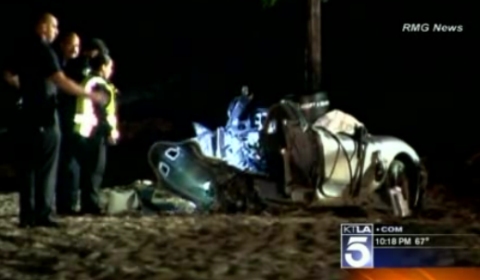 The driver of a Ferrari was involved in a fatal high-speed crash on Pacific Coast Highway on Sunday morning the 18th of September. The sports car was going twice the legal speed limit of 45mph when it veered off the road just north of Sunset Boulevard and hit a power pole. The F360 split in half and fell over a 30-foot cliff to the beach. Both passengers were ejected from the car.
Police believe that Vladimir Skvortsov, 24, of Upland was driving the Ferrari southbound. The passenger was Basil Max Price III, 23, of Pomona, who died after the car crashed. Skvortsov remained in critical but stable condition at a local hospital. It is unknown what his current situation is.
Of course, we cannot speculate at forehand, but records show Skvortsov had DUI convictions in 2007 and 2009 and another case that was pending when the crash occurred. The police is investigating the fact that the car was not owned by both and if the driver had been drinking before the crash.
[Via LAtimesblogs]