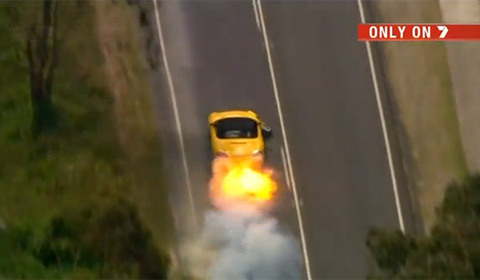 This video features some live-action Grand Theft Auto. A high-speed police chase ended in carnage after an alleged car thief crashed a Porsche Boxster and a Nissan SUV.
A 24-year-old male stole a yellow Porsche Boxster on the Gold Coast in Australia. At the height of the pursuit, the driver sped up an off-ramp, in the direction of oncoming traffic. He smashed the car into a barrier which finally resulted in the loss of a front wheel. The Porsche Boxster even caught fire.
The police said the offender reached speeds of 150km/h in a 60km/h zone, before the police were forced to temporarily abandon the pursuit. After two hours, the driver finally crashed the Porsche Boxter, but he abandoned the car and fled on foot.
With police on his heels, he managed to take a Nissan Navara with the keys still inside. This car was stolen and crashed as well, before the police was finally able to arrest the thief.