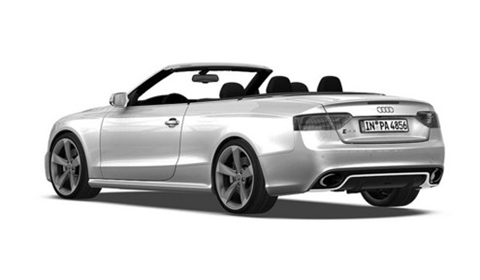 Audi is working on a convertible version of the RS5 Coupé. The German car maker has recently filed patent photos of the upcoming RS5 Cabriolet which will be launched next year.
These images show the RS5 Cabrio from different angles. The cabrio will be based on the facelifted RS5 Coupé and feature seating for four and the same electrically operated fabric top as the open versions of the A5 and S5. Furthermore the RS5 Cabrio has an aggressive front fascia, a honeycomb grille, a revised rear bumper and two massive exhaust tips.
The open RS5 will be provided by a 4.2 liter V8 which offers 450hp and 430Nm of torque. Power will be transferred to all four wheels via a seven-speed S-tronic dual clutch transmission. Thanks to this, the car should be able to accelerate from standstill to 100km/h in less than five seconds. The top speed will be limited at 250km/h.