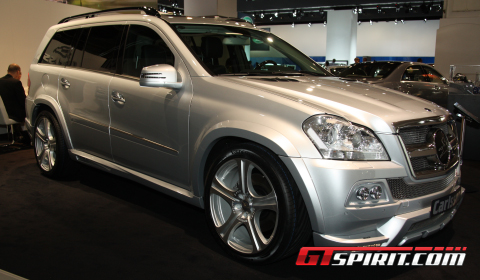 Carlsson took their brand new CGL45 luxury SUV to the 2011 Frankfurt Motor Show in Germany. The program meant for the Chinese market is based on the Mercedes-Benz GL Grand Edition and received a number of upgrades visible on the live pictures below.
The new aerodynamics package RS features widened wheel arches, a new front spoiler and the chrome-finished radiator grille with the Carlsson logo. The LED daytime running lights in the front spoiler lip finish the front look. The rear view is defined by the new rear skirt which leaves room for the four oval stainless steel exhaust pipes of the sport rear silencer.
Carlsson also improves the manoeuvrability of this large SUV with the intelligent lowering C-Tronic suspension. This lowers the vehicle by 30 millimetres and thus achieves a lower center of gravity while also reducing rolling and pitching.
The 22-inch wheel set 1/5 Evo Brilliant Edition was specially developed for the GL. The one-piece light alloy wheels have five spokes and are shod with Vredestein high-performance 305/35 ZR22 tyres.
The Carlsson CGL45 interior receives the Chinese customer with the illuminated Carlsson lettering on the door sills, embossed Carlsson logos on the headrests, Carlsson door pins as well as aluminium pedals with footrest. In addition, each vehicle is equipped with a signed plaque in the centre console, bearing a consecutive serial number and a signature of Carlsson CEO Markus Schuster.