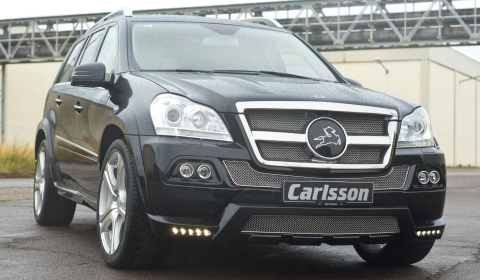 The new Carlsson CGL45 combines an aerodynamics package with an engine upgrade and an improved interior luxury. The SUV is based on the Mercedes-Benz GL Grand Edition introduced at the end of May this year.
The new aerodynamics package for the special edition Mercedes-Benz GL Grand Edition has widened wheel arches, a front spoiler and a chrome-finished radiator grille with the Carlsson logo. The LED daytime running lights in the front spoiler lip are part of Carlsson's lighting concept. The rear view has a new rear skirt with four oval stainless steel exhaust pipes fitted to the sports rear silencer.
For more performance Carlsson offers the C-Tronic Diesel Power unit. The 3.0 liter V6 increases its performance from 265hp by more than 15 per cent to 310hp. The maximum torque now reaches not 620 but 700 Newton metres. Carlsson also offers self-developed performance packages for further six- and eight-cylinder engines. The V8 engine of the top model based on the GL 500 reaches 435hp with a maximum torque of 600 Newton metres.
The C-Tronic suspension lowers the vehicle by 30 millimeters. A 22 inch wheelset 1/5 Evo Brilliant Edition was specially developed for the GL. The one-piece light alloy wheels are shod with Vredestein high-performance 305/35 ZR22 tyres.
In the Carlsson CGL45 interior has door sills with illuminated Carlsson lettering, embossed Carlsson logos on the headrests, double-sewn quilted upholstery, Carlsson door pins, aluminium pedals, Carlsson nappa leather. Alcantara, wood and stainless steel can also be processed just as customers wish using traditional crafting methods at Gut Wiesenhof. In addition each vehicle is equipped with a signed plaque in the central console with a consecutive serial number.