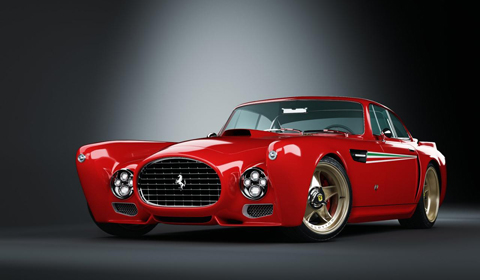 Coachbuilder Gullwing America is known its historical recreations. The American company has previously made a modern interpretation of classic Mercedes-Benz 300 SL Gullwing. Now Gullwing America is back with their latest project, the Ferrari F-340 Competizione, which based on the 1952 Ferrari 340 Mexico Berlinetta.
The Ferrari 340 Mexico Berlinetta was purpose-built to contest the 1952 Carrera Panamericana race in Mexico. It ran from a southern Mexican west-coast city towards Texas. Running from 1950 to 1954, it was widely held by many drivers to be the most dangerous race in the world. With only three Ferrari 340 Mexico Berlinetta's built, this car has to be considered one of the premier collector cars ever built by Ferrari.
Gullwing America, based in San Antonio (Texas) has used modern technology to recreate this legendary Ferrari. The new F-340 Competizione will be based on the platform of the Ferrari 456, the aluminium body will be hand-made. New additions will include a diffuser, rear spoiler, side vents and front splitters.
The car will powered by a 5.4 liter V12 which provides 470 horsepower and coupled to an original six-speed manual transmission. Furthermore modern brakes will be installed, as well a taught suspension.
The interior is designed to resemble the original, but also include modern features like carbon fiber seats, a roll bar and chronometers. A special luggage set is added as finishing touch.