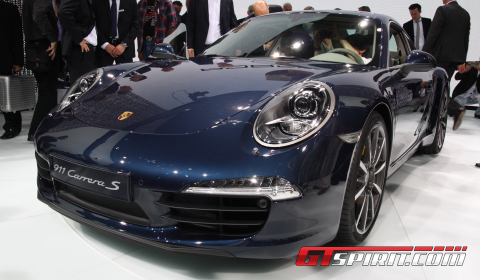 Another world premiere at the 2011 IAA Frankfurt Motor Show was celebrated by Porsche, which unveiled the sixth generation of the iconic 911. The German car maker officially launched the 2012 Porsche 991 Carrera S.
An initial release of photos and information of the replacement of the successful 997 was revealed by Porsche on 23 August and now the car has made its first public appearance.
The latest member of the Porsche family is powered by a direct injection 3.8 liter flat six which delivers 400hp and 440Nm of torque. Power is transferred to the rear wheels via a seven-speed manual transmission or the seven-speed Porsche Doppelkupplung (PDK), which improves the performance.
With the manual transmission, acceleration from nought to 100km/h is done in 4.5 seconds. The 911 Carrera S with PDK manages to accelerates to 100km/h in 4.3 seconds. Pressing the Sport Plus button on the optional Sport Chrono package cuts that to 4.1 seconds. The top speed is 304km/h.
Compared to its predecessor, the wheelbase of the new 991 has increased by 100mm, with the overall length up by 70mm). At the same time, the typical sports car compact exterior dimensions were retained. Thanks to the use of lightweight materials like aluminium and composites the weight has been reduced by 45kg.
The new 911 will enter the market on 3 December 2011, but orders can be taken since September 1st. The price tag of the 991 Carrera S is € 102,436, including 19 per cent VAT and market-specific equipment.