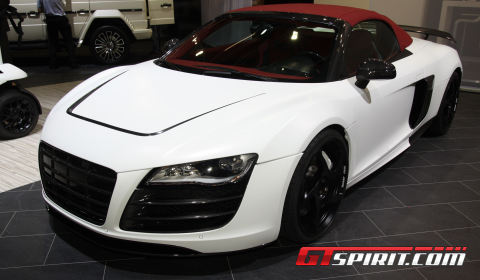 Mansory has unveiled many cars at the 64th edition of the IAA Frankfurt Motor Show. One of those cars is the Mansory Audi R8 Spyder.
The Audi R8 V10 Spyder will be the recipient of an exclusive and extensive refining program that includes cosmetic, aerodynamic and performance upgrades.
The Audi received a new front grill, bonnet, front details, side skirts and rear bumper to enhance the aerodynamic properties. A front spoiler attachment has been added, side skirts calm the air flow and the rear spoiler provides more down force. A new rear apron and integrated rear diffuser finish off the set of modifications.
The German tuner has also installed installed a sports air filter and a sport exhaust system. Thanks to this, the power output of the V10 5.2 FSI-engine increased to 552hp and a torque of 550Nm.
Furthermore the car has been lowered and light-weight forged Mansory wheels have been fitted in 20 inch sizes. The modifications on the outside are complemented with an extensive range of options for the inside. Together this guarantees that no two vehicles are exactly the same.