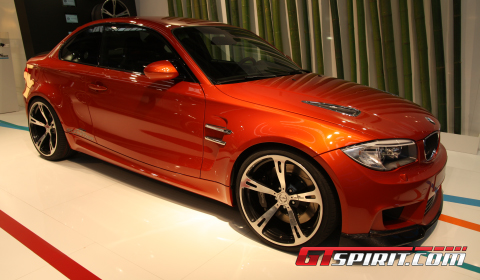 Aachen-based tuner AC Schnitzer has officially shown their program for the BMW 1-Series M Coupe to the public here at the IAA 2011. This program, called ACS1 Sport Coupé, focuses primarily on visual enhancements, but the 1-Series Coupé also received a new braking system, performance upgrade and racing suspension.
A few weeks ago GTspirit had an exclusive preview into the companies design study and work shop while they were working on the BMW 1-Series M Coupe. Now we can show you the finished program, including the aerodynamic body kit and performance upgrade, live at the Frankfurt Motor Show 2011.
The first goal of the AC Schnitzer package was reduction of the weight. A high performance and lightweight brake system for the front and rear axle was installed. AC Schnitzer has developed a new and even sportier-tuned suspension which lowers the vehicle by 10 or 20mm. The aerodynamic package features a new carbon front spoiler, chromed front grille, carbon rear diffusor and bonnet vents.
The heart of the 1-series M Coupé by AC Schnitzer is the power upgrade from a standard 340 at 5,900rpm to 400hp at 6,100rpm. The maximum torque increases from 450Nm to 560Nm at 4,700rpm. Top speed was raised to 300km/h and the sports car goes from zero to 100km/h in 4,7 seconds, 0,2 faster than stock. The AC Schnitzer twin sports rear silencer with chromed Racing tailpipe trims right and left helps the six-cylinder engine breathe more freely and creates an individual sound picture to suit the sporting image.
The 340 or 400hp are delivered via the transmission to the wide, weight-optimised 19 or 20 inch wheels. Customers can choose from Type VIII and Type V forged alloy wheels in BiColor, Type VIII and Type IV wheels in BiColor and Type IV in silver with corresponding tyres to transfer the power to the road.
On the inside you will spot numerous alunimum parts like a gear knob, handbrake handle, pedal set, foot rest and a cover for the i-Drive system controller. You can also get a leather gear shift cover, a leather gear knob and an illuminated gear knob with digital display. AC Schnitzer also painted the center console and interior trim in Valencia Orange and added an AC Schnitzer sports steering wheel in alcantara.