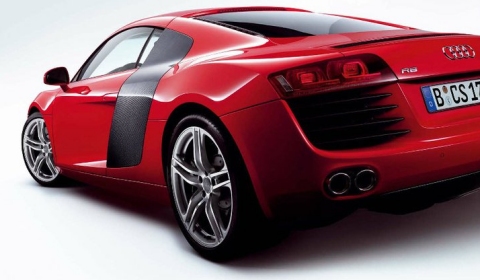 More details regarding the upcoming facelift of the Audi R8 has been unveiled. The Audi R8 entered the market in September 2006 and will receive a small revision to make Audi's supercar more up to date before it is due to be replaced with a brand new model in 2014.
According to German magazine Auto, Motor und Sport, the 2012 Audi R8 will see an upgrade in performance. The output of the V8 will increase from 424hp to 450hp. The V10 will be upgraded from the original 518hp to 560hp, which is almost similar to the R8 GT.
The R-tronic transmission will be abandoned. Instead, the R8 will be delivered with a seven-speed S-tronic dual clutch automated gearbox (DSG). By using two independent clutches a DSG can achieve faster shift times, there is no loss of torque transmission from the engine to the driving wheels during gear shifts, and it would improve the fuel economy.
As for the exterior, the changes would be more subtle. Narrow all LED-headlights will be standard in the future. The grille will be slighty restyled in order to fit more in the Audi family.
The upgraded Audi R8 is expected in the beginning of 2012. So stay tuned for more!
[Via Auto, Motor und Sport]