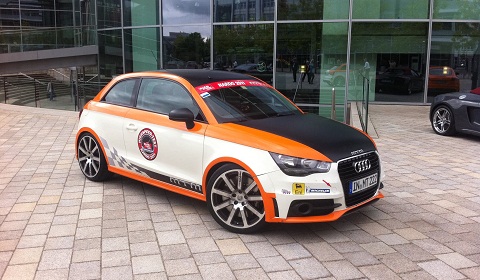 MTM is working on a four-wheel drive version of the Audi A1 with the 2.5 liter engine from the TT-RS. It will be similar to the current front wheel drive A1 Nardo Edition with around 500hp on offer and a top speed around 324km/h.
The advantages of four-wheel drive mean that the new MTM A1 should perform better under acceleration. Handling and usability in various weather conditions should be much improved compared to the current front-wheel drive A1 Nardo Edition. Expect MTM to release full details in 2012, after the Quattro-equipped A1 breaks cover.
For those who don't remember, the MTM A1 Nardo Edition is a turbocharged front-wheel drive Audi A1 with a six-speed manual gearbox and limited slip differential. It recently achieved a top speed of 324km/h at Italy's Nardo testing facility. It currently manages the 0-100km/h sprint in just 4.5 seconds, its 19 inch wheels with wheel covers help it achieve its staggering top speed.