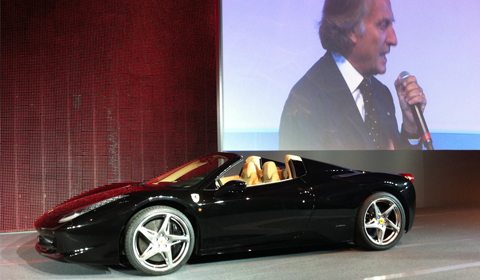 Tonight Ferrari has officially unveiled the new 2012 Ferrari 458 Spider in Marenello. Via Teamspeed.com member GrayTT was their to experience the release first hand. He also managed to take a couple of pictures and a video of the three different 458 spiders. You can check them out below.
Ferrari showed off the 458 Spider in yellow, red and black. The open-top prancing horse is equipped with a Ferrari patented, fully retractable hard top, a world first for a sports car with this lay-out.
The 458 Spider is powered by a naturally-aspirated, direct-injection 4.5 liter V8. The power is transferred to the road by a dual-clutch F1 paddle-shift transmission through the E-Diff, itself integrated with the F1-Trac traction control and ABS. The figures tell us that the extra weight of 50kg adds a tenths to the 0-100km/h time, taking it to 3.4 seconds. Top speed drops from 325km/h to 320km/h being Ferrari's fastest-ever convertible.
New official promotional clip of the Ferrari 458 Spider filmed with an iPhone:
Official promo clip of the event in Maranello: