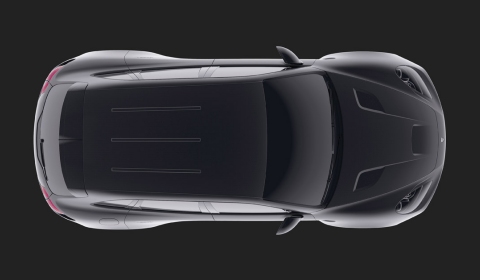 Eterniti Motors, the recently announced new British car company, will make its public debut at the Frankfurt International Motor Show (IAA) on 13 September. The company has showcased their second teaser of the company's first car; the Eterniti Hemera luxury SUV.
The Hemera will be the world's first Super-SUV, providing new levels of luxury, space and performance in an SUV to create a new niche. It will feature a limousine-like rear cabin, including twin reclining seats, iPads and a drinks chiller, giving customers the option of being chauffeured as well as driving. But with compact dimensions, 4×4 ruggedness and dynamic performance, it is also both practical and retains driver appeal.
The Hemera will be shown in Frankfurt as a prototype, with production and deliveries to start in 2012. It is based on the latest generation of the best large SUV platform available, which will undergo a chassis-up rebuild, with a new, repackaged interior, carbon-composite body panels and additional performance.
The engineering team is led by Alastair Macqueen, who was responsible for the development of the Jaguar XJ220 supercar to production and has won the Le Mans 24-Hour race with both Jaguar and Bentley. Eterniti also has its very own F1 driver, Johnny Herbert, like Macqueen victorious at Le Mans but in addition a winner of three Grands Prix during a ten-year Formula 1 career. Johnny will have an active involvement in developing Eterniti vehicles as well as serving as an ambassador for the brand.
Stay tuned for more from the Eterniti stand at the IAA 2011 next week.