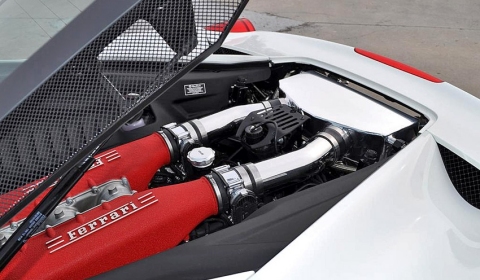 Twin-Turbo specialist Underground Racing has released a video showing the Ferrari 458 Italia Twin-Turbo program. The clip follows initial pictures showing the system fitted to the 458.
Equipped with Underground Racing's Stage 1 twin-turbo system, this Italian prancing horse stomps out an amazing 700 rear-wheel horsepower on pump 93 octane fuel, an increase 130hp.
The standard 458 Italia is powered by a 4.5 liter V8 engine. The engine features direct fuel injection, which is a first for Ferrari mid-rear engine setups in its road cars. The standard transmission is a Getrag dual-clutch seven-speed transmission, it is unknown if Underground Racing changed the gearbox.
The Twin Turbo system with a stock engine is Stage 1. A rebuilt engine with Twin-Turbo system will be stage 2.