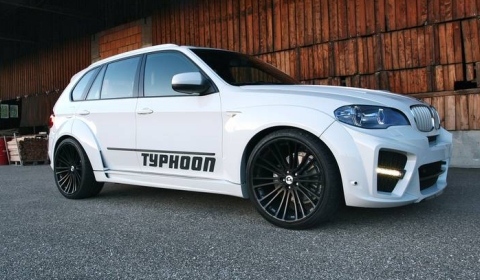 German tuner G-Power is now offering the Typhoon program for all current BMW X5 facelift models. The kit offers a 525hp strong G-Power SK III eight-cylinder supercharged engine propelling the BMW X5 with 4.8 liter engine to a maximum speed of 275km/h. The acceleration from 0 to 100km/h only takes 4,7 seconds.
The body kit includes wider wing extensions, new front- and rear skirts, and a bonnet made entirely from carbon fiber and with two lateral ABS grilles for stationary ventilation. The side skirts have on their bottom side five LED units, which can be activated by remote control or by pulling a handle at the door. They illuminate the ground at both sides of the car. At the upper side, stainless steel inserts with an also blue illuminated G-Power logo are integrated.
G-Power Silverstone Edition forged wheels in the dimensions 11Jx23 at the front and 12Jx23 at the back were especially designed for the Typhoon body kit and are the largest available model. Four high-performance tyres measuring 315/25 ZR 23 by the development partner Michelin render are fitted to the rims.
The G-Power SK III Sporty Drive supercharger system gives the 4.8 liter engine a performance increase of 170hp to 525hp at 6,100rpm and renders a torque increase of 475Nm to 600Nm at 5,300rpm. In order to achieve this performance, an ASA T1-522 charger with radial centrifugal clutch is flanged to the engine with a CNC-milled, high-strength framework structure. The supercharger which is powered by a crankshaft via the multi-rib belt has an oil flow which is integrated into the engine oil circulation for lubrication. The boost pressure is 0.5 bar.
The two-part carbon intake air duct with large, aerodynamic transverse sections, a large-volume aluminium charge air cooling system in the front of the X5 and a G-Power Speedflow high-performance exhaust system which is entirely made of stainless steel and includes racing headers, racing catalysts and end mufflers, form the peripheral equipment of the supercharged engine.
The G-Power X5 Typhoon cockpit can be refined with exclusive accessories like an ergonomically formed sport steering wheel, a speedometer in Typhoon design and sporty aluminium accessories. Further wishes can be fulfilled with exclusive interior equipments in all possible leather and ultra-suede colours.