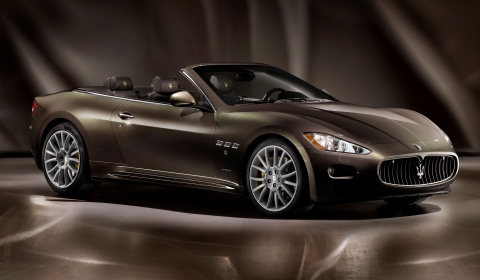 The Maserati GranCabrio Fendi is designed by Silvia Venturini Fendi and will be introduced at the Frankfurt Motor Show in September. The GranCabrio Fendi is crafted in the Maserati headquarters in Modena, with exclusive materials bespokely created in various colours for this project.
The three-layered body colour named Grigio Fiamma Fendi is a special dark grey with an iridescent golden finish on the surface. The wood trim Pergamena Fendi runs across the width of the dashboard, on the doors and on the top of the gear lever, all in the Fendi yellow, like the brake callipers and the embroidered yellow trident on the headrests.
Fendi's unmistakable double F logo, stitched on the seat, is also appearing in the center of the 20 inch alloy wheels, and the Fendi logo along the rocker panel. Cuoio Romano, Fendi's leather of its Selleria line, has been used for the instrument cluster cover, for the gear lever and for the profile of the floor mats. It also features in the Limited Edition Travel Set of luggage and accessories. A special black car cover with ton-sur-ton double F logo dresses the Maserati GranCabrio Fendi.
Silvia Venturini Fendi's specially crafted logo seals this collaboration. A silver oval plaque with the engraving of the Maserati Trident, Fendi logo and the 5-digit series number (five being an iconic number for Fendi) is located on the dashboard, in front of the passenger seat, and on both sides of the black cloth folding roof.
If you would like to know more about the Maserati GranCabrio then please read our road test of the luxury convertible.