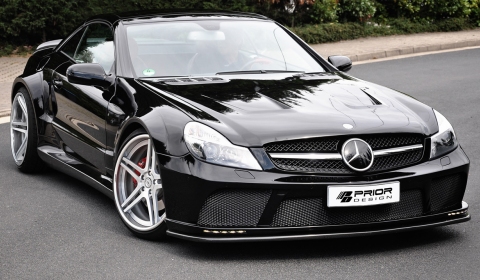 The latest creation from Prior Design is this Mercedes-Benz SL R230 Black Edition. The package is an extremely wide-construction version based on the current SL R230-series.
The sports car body kit consists of a front and rear bumper, a set of front mudguards, a diffusor set, a rear spoiler, a set of side sills, a set of front flaps and the new, rear side parts.
Prior Design sells the DPE wheels exclusively in Germany. At the front in 9.5×20 inch, at 275/30R20, and at the rear in 12×20 inch, at 325/30R20, this wheel/tyre combination is connected to an electronic lowering of the serial air chassis. An in-house sports-exhaust system is integrated in the diffusor. It is also available as true carbon fiber.