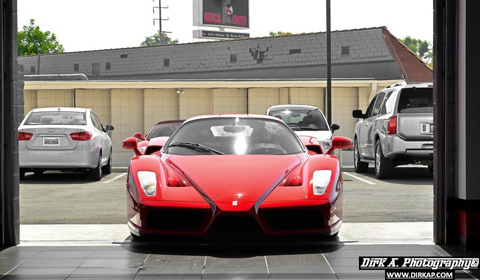 The Ferrari Enzo is a true successor of the legendary supercars like the F40 and F50. Powered by a 6.0-liter V12 which produces 651 hp (485 kW) and 657 Nm (485 lb-ft) of torque, the Italian Horse is able to accelerate from standstill to 100 km/h in 3,2 seconds. With a top speed of 355 km/h this is one of the fastest cars made by Ferrari.
The Ferrari Enzo was produced between 2002 and 2004, and a total of 400 cars have been built. The Enzo is one of the most precious modern day Ferrari's with prices easily exceeding 1 million Euro. Such a great and valuable car must be maintained properly.
Dirk A. Photography had the opportunity to take some photos of a Ferrari Enzo getting serviced at Calabasas Luxury Motorcars in the Greater Los Angeles area. The gallery below features not only the Enzo in a well maintained and clean environment, but also other Italian exotics like the Ferrari 360 Modena, Maserati Quattroporte and the Lamborghini Murciélago.