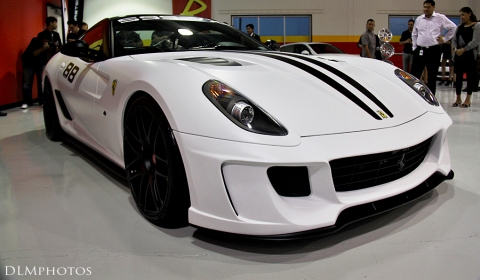 US tuner Vorsteiner kept the development of their Ferrari 599-VX Edition under wraps as much as possible before its official worldwide debut at Concorso Italiano at Pebble Beach California.
The only information that could be shared up this moment was that it is a comprehensive build that underwent testing and development for the past fourteen months. Vorsteiner finally took the covers of this beast last night during an exclusive first light debut party.
The pictures below give a complete overview of the wonderful package for the Ferrari 599. It is unknown at this stage what the complete package features. By the looks of it, it includes a new front lip, new front bumper, new hood, bigger air vents in front of the rear wheels, new rear diffuser, new rear spoiler and a new rear bumper. The exhausts are now placed similar to the 430 Scuderia and a brand new lightweight wheel set was added as well.
Stay tuned for more information on the complete kit for the Ferrari 599 GTB.
[Picture and video via DLM Photos]