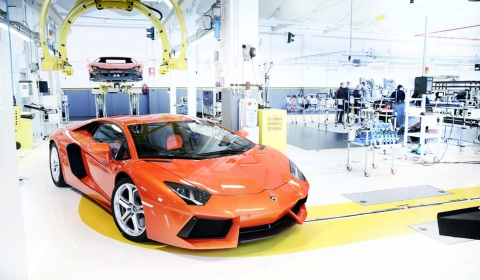 Our photo of the day shows a peek inside the Lamborghini factory where a Lamborghini Aventador LP700-4 nears the final inspection stage.
The production line in Sant'Agata Bolognese is currently producing the first customer and dealer cars to be delivered over the upcoming months. The gallery below gives a complete overview of the production stages. From the interior upholster, engine setup and the exterior construction, to the finished product, out in the wild. All phases are shown below.
Just a small recap. The Aventador Lamborghini LP700-4 measures 4.78 meters long, 2.26 wide (including mirrors) and stands 1.14 meters tall. The engine of the Lamborghini LP700-4 Aventador, which was released early on is a new 6.5 liter V12, which weighs 235kg and delivers 700hp at 8,250rpm and 690Nm at 5,500rpm. The LP700-4 weighs just 1,575 kilograms (3,472lb) which means that the Aventador has a power to weight ratio of 2.25kg/hp or 4.96lb/hp.